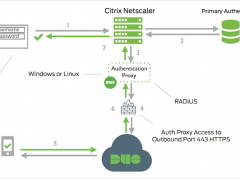 To add Duo two-factor authentication to your Citrix Gateway with nFactor you'll configure the Duo Authentication Proxy as a secondary RADIUS authentication server. Primary authentication happens directly between the Citrix Gateway and your Active Directory, LDAP, or other identity store, which enables additional features such as AD password resets.
Before starting, make sure that Duo is compatible with your Citrix Gateway device. Log on to your Citrix Gateway via the web interface and verify that your Citrix Gateway firmware is version 12.1-51.16 or later and your Citrix Receiver or Citrix Workspace clients support 12.1 or later.
Also verify that your Citrix Gateway is licensed for Advanced Authentication Policy. As of Citrix Gateway release 13.0-67.x, the "Standard" license also includes nFactor for Gateway/VPN, while Citrix ADC requires an "Advanced" or "Premium" license to use nFactor.