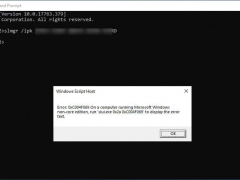 When you try to activate Windows server 2019 from evaluation version, do you always get an error message "the product key you entered didn't work. Check the product key and try again, or enter a different one. (0x80070490)"?
Today, I am going to show you how to install license key to activate Windows Server 2019 from Evaluation version. Let's follow steps to activate your windows server 2019 (it also can be use for activating Windows Server 2016).
Note: you cannot use slmgr /ipk command with VLSC MAK key or Retail to activate evaluation edition server directly.